The Washington Post has obtained detailed U.S. government data about Trump's border-wall project, its construction progress and contracts for each segment of the structure. The data shows the Trump administration is far from delivering on the president's promise to finish more than 500 miles of new barriers by early next year. Though Trump had insisted Mexico would pay for the project, it has been funded entirely by the U.S. government, at costs that reach nearly $30 million per mile in southern Texas. Nearly all of the new fencing the Trump administration has built so far is considered "replacement" fencing, swapping out smaller, older vehicle barriers for a more elaborate — and costly — "border wall system." Read more...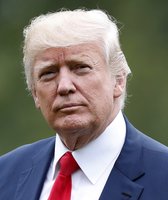 "On the Southern border, as you know, the wall is going up, it's going up very rapidly. We're at 182 miles." The real facts:
What the administration has mostly done is replace old and outdated designs with new and improved barriers.

Of 187 miles, 172 miles have a border barrier that replaced dilapidated or outdated designs. The other 15 miles have a barrier for the first time. 

 Before Trump became president, 654 miles had primary barriers. During Trump's presidency, that has increased by 3 miles, to 657 miles of primary barriers.
Read more...